A szolgáltatás nagyszerűsége
Számunkra az Ön elégedettsége a legfontosabb. Lelje örömét a SPARTOO.HU-on és rendeljen bizalommal szolgáltatásainknak köszönhetően
Megnyugtató szolgáltatások
Az adatok titkosításával történő biztonságos kifizetés, a rendelése átláthatósága a csomagok követésével, a telefonközpontunkon vagy e-mailen keresztüli kapcsolattartás ügyfélszolgálatunkkal vagy az online támogatás a GYIK segítségével. Végezetül pedig a minőségi szolgáltatást biztosító és gondos körültekintéssel kiválasztott szolgáltatóink (logisztika, Colissimo, KIALA, Mondial Relay, CIC bank).
Ingyenes kiszállítás és visszaküldés/csere
A SPARTOO.HU ingyen biztosítja küldeményei szállítását.
A termék nem felel meg Önnek tökéletesen? Küldje vissza ingyen az átvételét követő harminc napon belül. A SPARTOO.HU méretei átcserélhetők, amennyiben azok megtalálhatók készletünkön. Nem megfelelő a modell ? Kaphat helyette ajándékutalványt, de választhatja a visszatérítést is.
A kínálat sokszínűsége
A SPARTOO.HU oldalán több mint 30.000 férfi, női és gyerekmodell közül válogathat, a cipő szerelmesei által nagyra becsült és népszerű mintegy 700 márka termékeiből (Converse, Kickers, Doc Martens, Pataugas, Nike...). Széles skálán kínáljuk a táskákat és bőráru kiegészítőinket a megkerülhetetlen márkák választékából: David Jones, Desigual, Paquetage, La Bagagerie vagy Hello Kitty a fiatalabbak generációknak. A SPARTOO.HU oldalán nagy választékban talál női és férfiruházatot is. Desigual, Esprit, Levis, Diesel, Eleven Paris: fedezze fel néhány kattintással a legnagyobb konfekciómárkák legújabb kollekcióit.
"Több mint 700 márka és
30 000 modell. Ingyenes kiszállítás és visszaküldés, megnyugtató szolgáltatások..."
A modellek megismerése igényei szerint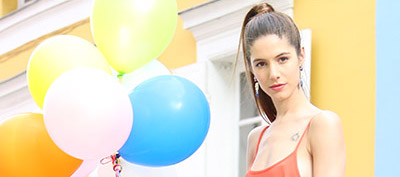 A modellek gyors kiválasztása az Ön kritériumai alapján
Adjon meg kulcsszavakat a kereséshez (szín, méret, ár, stb) vagy használja a felkínált szűrők széles választékát.
Keresés két bejegyzéssel
Böngésszen a saját stílusában: fedezze fel az Önhöz illő márkákat. Válassza ki kedvenc márkáját: fedezze fel az aktuális legfelkapottabbabb modelleket a márkáknak szentelt külön részlegekben.
A top 5 értékesítés
Fedezze fel az 5 legjobb értékesítést a SPARTOO.HU-n stílusok és márkák szerint.
Találja meg minden adatát az egymást követő látogatások alkalmával is
Kiválasztotta az Önnek tetsző termékeket, de nem akarja rendelését rögtön érvényesíteni? Semmi gond! Ha a termék még mindig kapható, megtalálja a "Kedvenceim" oldalon, ugyanúgy, mint kiválasztott termékeit következő látogatása alkalmával.
Belépés
Lépjen be fiókjába és ott megtalálja az összes Önre vonatkozó információt : kézbesítési címét, folyamatban lévő rendeléseit...kedvenc modelljeitől ajándékutalványáig minden egyben megtalálható, elérhető és módosítható.
A Kívánságlista
Beleszeretett egy modellbe egy látogatás alkalmával ? Karácsonyi lista ? Leárazások után kutat? Gyűjtse össze kedvenc modelljeit a « Kedvenceim » rovatba téve őket. Ennél semmi sem egyszerűbb : minden termék alján megtalálja a "Kedvencekhez adom" ikont.
Kosara
Amint letelt a gondolkodási idő, helyezze át egyetlen kattintással a modelleket " kedvenceim "-ből kosarába. Kiválaszthatja kívánságlistája néhány vagy akár az összes termékét. Mindezt egyszerűen, és saját döntése szerint !
Multi-platform alkalmazások: Ön mobil ? Mi is azok vagyunk !
Találja meg a SPARTOO.HU-ot az mobiltelefonon és tableten is. Nézegessen, lájkoljon és készítse el kívánságlistáját a nap bármely szakaszában !
Mobil-webhely
Nézze át kínálatunk egészét intelligens szűrőink segítségével, fejezze be vásárlásait és kövesse nyomon rendelését belépve fiókjába, megszokott azonosítói segítségével.
Mobil alkalmazásaink
Lépjen fel egy kattintással oldalunkra, letöltve a Google Play Store és Apps Store által elérhető SPARTOO.HU alkalmazást. Megtetszett egy cipő ? Olvassa be a dobozon található vonalkódot. Automatikusan értesül arról, hogy a termék kapható-e vagy nem oldalunkon (kizárólag csak iPhone-ra elérhető).